Cyclo Camping International
(CCI) was founded in 1982. It's a place for cyclists to meet cyclists, to exchange plans, ask advice or just to talk of adventures along the way. It doesn't matter whether those adventures or your plans are over a weekend or an entire tour of the world. You'll always find someone to enthuse, to help, to advise. .
The club is run entirely by volunteers, people like you.
Click here
for the membership form.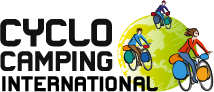 Cyclo Camping International brings together everything in cycle-touring
As a member, you'll receive our magazine every three months at a preferential price. You'll be able to exchange ideas and ask advice on our forum. You'll be able to see who has toured where, on which continents, so you can find the best advice.
You can consult WikiCycloPays for information - cycling information - you won't find elsewhere. And you can make the most of our cyclists' handbook, the Manuel du Voyage à Vélo (in French).
Thanks to the work of Philippe Orgebin, you can dip into a whole library of journeys from the past.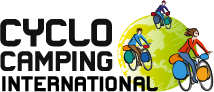 Cyclo Camping International brings together bike-campers
Our festival of bike travel in Paris brings the best of the year's films of independent travel, presented by the riders themselves. You can browse exhibitions by cycling companies, chat with those whose films you have seen and buy books of their journey.
Links liens to other sites for bike-touring enthusiasts.
Encounters and bike journeys from two days to two weeks : les sorties CCI (weekends and fortnights). Join the ride when you choose and leave when you want. Ride all or just a part. Only the night's stops are arranged; you pick your own route, ride at your own speed, with others or alone. The perfect formula for cycling freedom.
A network of contacts and of cyclists who welcome fellow members to their homes: Cyclo Accueil Cyclo
A clubnight on a Friday each month at the Maison Du Vélo in Paris, near the Bastille métro stop. Another chance to meet members and share expériences.
CCI_EN from Arnaud Lefevre SDP on Vimeo.
Cyclo Camping International since 1982, a film made by Bernard Colson in 2012:

CCI il y a 30 ans par cyclocampinginternational